---
Mar/Apr & May/Jun 2023
---
Pathfinder readers and supporters
have spoken and written. . .
•"I reckon Pathfinder is the best!" C.W.

•"Wow, Rose! [The May/June 2020 pdf] looks great! Thanks for all your deep and thorough research into the coronavirus. We are making a difference. With much love and warm wishes," Fred (Fred Burks, wantToKnow.info)

•"Thanks for holding their feet to the fire!," Dane Wigington (geoengineeringwatch.org)

•"I always enjoy reading Pathfinder. . . "

•"Wow! I just sent copies of Pathfinder to friends. . . "

•"This is important for people to know. . ."

•"The Pathfinder is unique. . ."

•"One of the best alternative papers in the country. . "

•"Pathfinder gives me something to save in every issue. . "

•". . .may have saved my life!"

•"Pathfinder is a gem!"

•". . .filled with information. . . "
•"I really enjoy your publication. It is a great service!"


---

top

— Looking for Pathfinder? —
Pathfinder is on your side. We're not dictated to by Big Biz or Big Anything. Not embedded in the Matrix. Fiercely independent. Unapologetic for bringing inconvenient truths about the current state of things in our country (and our world) to its readers, as well as those good things that uplift and heal bodies, minds and spirits.

By supporting alternative media, like Pathfinder, you support your own best life, your highest goals, the planet, and humanity's place in the Cosmos.

See subscription form below; advertise, sponsor a distribution area. . .

Print out and use the Subscription Form below

"Pitch in"! — Rose "the Editor" Jenkins— top


---

To subscribe, please print out the subscription graphic below and send it to:
Pathfinder, PO Box 300317, St. Louis, MO 63130. (Thank you !)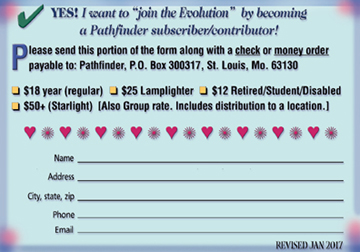 top