Time Patterns Reports
Order some "Keys" to your destiny!

Choose from a combination of the following. . .

>> Basic Self-Knowledge Kit: Birthchart, Life Patterns, $15. A natal blueprint can literally open your eyes about yourself and your path in life. Why deprive yourself of the uniquely relevant material afforded by an accurate horoscope, interpreted by a skilled astrologer?

>> Basic kit plus Karmic Patterns, Galactic Report, $25. After our eyes are open, questions arise, and many answers can be found. The paths of Karma may be discerned, as well as ways to defuse some of the difficulties. . . We are not victimized by our past, or parents or even our seeming failings: these are only present in order for us to learn to overcome some obstacle, to grow stronger, more compassionate and understanding, while increasing our capacity for learning and our ability to express the gifts given to us by our Creator.

>>The Galactic Report includes the "rejecta" or primordial material in our solar system. The outer planetoids, etc. represent "matters" that underscore or emphasize many of the lessons we have yet to learn or show how we've learned to handle them. Besides material in our Solar System, there are pulsars, black holes, masers, and other powerful stellar or quasi-stellar objects that also carry meaning for our spiritual and personal growth.

>> Solar Return / Lunar Return, available only with Basic kit. Specify particular year or month. $25. Pretty self-explanatory. Once you learn more about yourself, it is natural to want to know how things are going and what's coming up (or issues likely to emerge) during the year or month-by-month.

>> Any of the above reports personalized with my impressions, $80 (plus the cost of various report combinations). Impressions surface in viewing a chart, bringing intuitive flashes that transcend cookbook descriptions and "one size fits all" programs. I bring years of study and application to bear in finding relevant patterns and insights to help better equip you for your spiritual journey…

Add $5 for mailing and handling. All questions and consultationsprivate and confidential.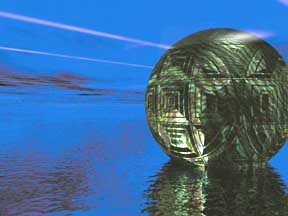 Image is original art by Rose A. Jenkins.
Also see Gallery.

[Back to Time Patterns] [Cosmic Home] [AAStL]

Phone/Fax: (314) 863-2241

plasma@brick.net

See sample graphic chart